How to Launch a Cooking Blog that Stands Out
November 20 2023
Authored by: Kristin Johnson • 7 Minute Read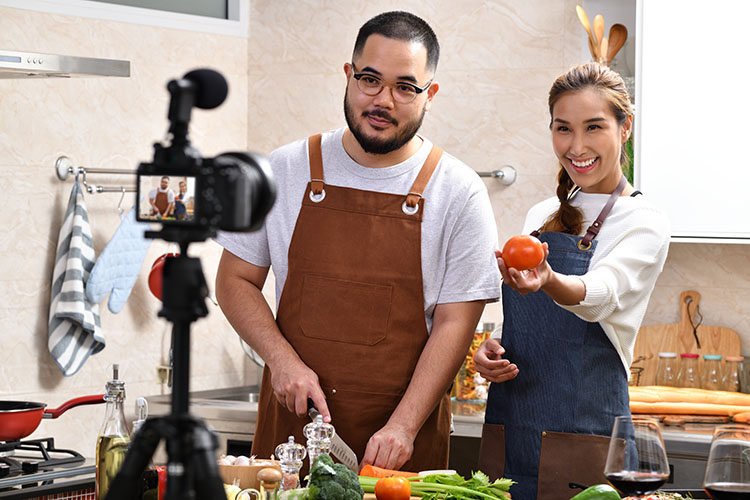 ---
If you want to launch a blog but not sure which category would make you the most money, consider cooking up a food blog. Food blogs, according to a RankIQ study, are the most profitable blog niche, outranking other topics like fashion, travel and lifestyle. The study found that food-focused blogs earned the highest median monthly income, north of $9,000.
Perhaps you simply have a passion for whipping up delicious dishes, and genuinely want to share your recipes with the world. With so many viral food blogs, famous YouTube channels and Instagram accounts dedicated to the art of cooking and dining, how do you start one that stands out? There are many ingredients to running a successful cooking blog. From branding your blog, to launching a website, and monetizing it as a business, here's a step-by-step guide.
Cook up a brand. As mentioned, the blogosphere has become crowded and competitive, so a generic food blog would simply get lost in the sea of foodie websites that are already out there. The first step to launching a successful food blog is to think deeply about your brand, and its unique value proposition. Think about the overall look and feel of your blog, what kind of audience you want to attract, and over the long term, how it will operate as a profitable business. Food blogging itself is a massive umbrella term, and can be divided into many sub-niches, like dining experiences, recipes, nutrition, restaurant tours, and much more.

To get started, ask yourself a few brainstorming questions:
Will your blog explore a specific cultural cuisine, be it Italian pasta dishes, authentic Mexican bites or nutritious Vietnamese soups?
Some food blogs thrive largely because of the on-camera talent. Will you be the face of your food blog brand or will the content only feature the food and ingredients on the table?
Will you focus on certain diets such as vegan or keto lifestyles?
As in any business, think about price points. Will you delve into the world of five-star restaurants, or do you see yourself highlighting the best street vendors in the world?

After brainstorming your brand identity, crystalize it into a tagline and perhaps a 300-word synopsis. Last but not least, let your brainstorming session help you generate a name for your cooking blog.

Secure a domain and website. Ideally you'd want your domain name to perfectly match your business name. First, find a domain registrar, or a platform that sells domains. But if it is unavailable, consider opting for a solid, top-level domain to make sure your domain name and company name match. Brand consistency, after all, is a golden rule in any marketing strategy.

After you procure your domain, find a web host, which means you are buying space online where your audience can visit your website and read your content. Think of it as purchasing a plot of land on the Internet. A host is where all your webpages and information from your blog are stored. Some offer free domain registration for the first year.

Design your blog. Now that you've secured the fundamentals of launching a website, it's time to build a blog and create a wonderful content experience for your readers. Unless you're savvy at coding, it might be worth hiring a professional web designer. Think of it as an investment.

When designing your blog, think about your brand identity. The colors, theme, layout, images and content should echo your food blog's distinct brand. If you're focused on French breads, a minimalist aesthetic that speaks to the simple ingredients of a baguette would make sense. If you want to launch a blog that focuses on the best restaurants to visit during Mardi Gras in New Orleans, fun vibrant colors that mimic the city's annual festivities would be appropriate.

Start serving up some content. It's time to start posting and publishing. The key is to always present high-quality content, be it easy yet delicious recipes, a local tour of a food district, an insightful restaurant review, meal-prepping hacks, etc.

As with cooking, presentation is everything. Think about the headlines, sub-headlines and images that will whet your reader's appetite for awesome foodie content.

Consistency in output is also important. Develop a content calendar that will ensure you are posting regularly, at least once a week. Posting regularly will help you build your audience who will become accustomed to your publishing cadence. While quantity is important, quality should always take precedence.

Share your cooking content with the world. Think of the relevant social media platforms for your cooking audience, be it Instagram, Facebook, TikTok or Pinterest. Post on these sites regularly, and always link back to your website's blog in each post. Additionally, be sure to link to your web homepage in your social media profiles as well. Your brand voice and look should shine through in each social post.

Social media isn't the only way to find your fellow foodies. SEO is a solid strategy for gaining organic and unpaid traffic. Use keywords related to your content, and the types of search terms your target audience is using.

Monetize your mouthwatering blogs! Turning a passion into a profitable online venture sounds like a dream. But running a blog in a competitive landscape still takes grunt work, especially when it comes to ensuring it generates regular income. One basic way to monetize is to run ads, be it on social media platforms or court companies to run ads on your own site. You can rely on sponsored posts for particular cooking companies or restaurants, just make sure each partnership makes sense for your brand. Another popular route is affiliate marketing, where food brands can promote their products in your blog posts. You can also get creative by selling e-books or e-courses that guide your foodie followers through your favorite recipes.

Whether you're writing about local joints across the country or embarking on foodie adventures around the world, nothing brings this world together like a love for food. So when creating a cooking blog, think of ways to lock in local audiences, as well as appetize new readers and followers around the world.