Create a Captivating Podcast Website: Tips for Design, SEO, and Engagement
November 06 2023
Authored by: Kristin Johnson • 4 Minute Read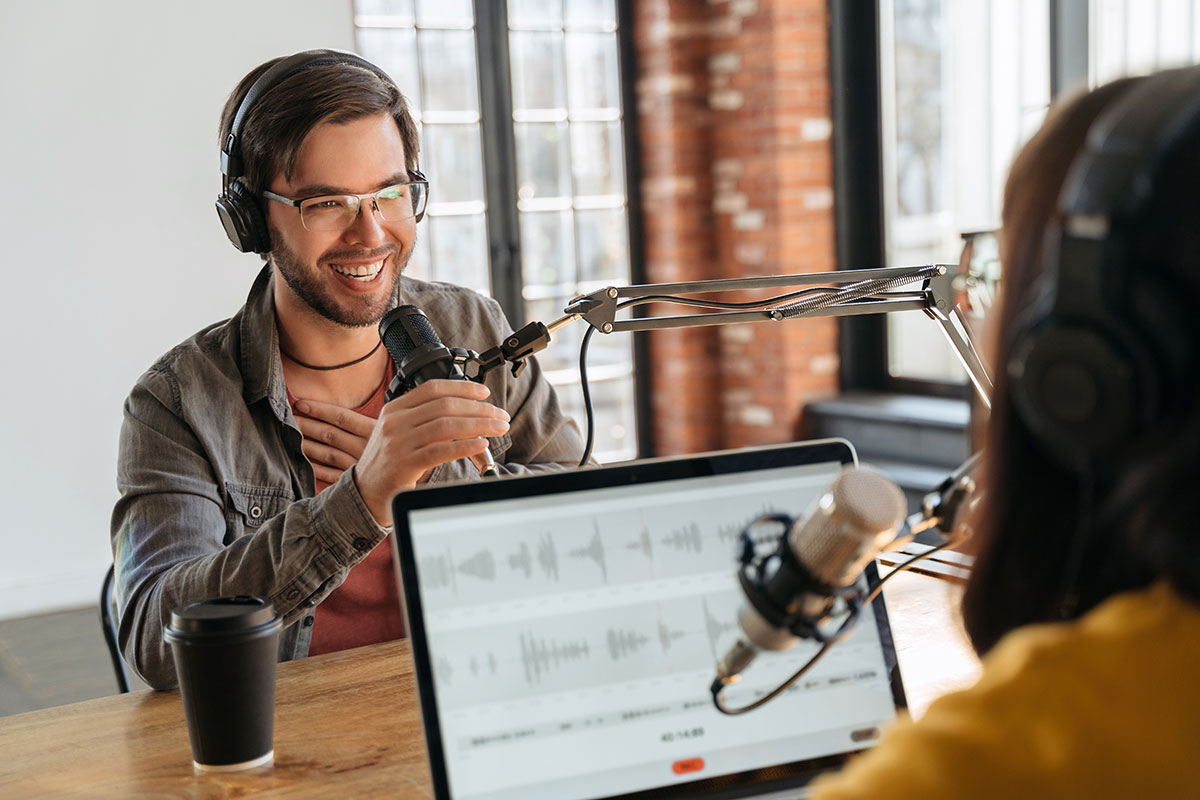 ---
Successful podcasts are all about sounds rather than sights, but it's a good idea for any podcaster to design a complementary website to help promote and build a following for their audio series. A podcast website can serve as a powerful hub for promoting your latest episodes and for attracting new listeners. It also gives your fans a new avenue for further engaging with your podcast.
Whether you are producing a podcast about manifesting wealth, or delving into an investigative series focused on true crime cases, creating a well-designed and optimized website helps attract listeners who are on the hunt for content related to your podcast topic. But how do you create an effective podcast website and what should it include?
To create a good website for your podcast, consider the following steps:
1. Website platform: Select a user-friendly website builder that offers file hosting and RSS feeds to support your podcast uploads. Since the audio files for podcasts are quite large, a hosting platform with substantial server storage space is required. Be sure to check if there are any limits specific to audio storage, you don't want to run into issues with space as your podcast continues to grow.
Some website platforms are designed specifically for podcasters and offer the ability to publish and store podcasts on your site through an RSS feed, which can then easily be distributed to major podcast players, and some will event automatically distribute your podcast as you upload new episodes.
Evaluate your long-term needs and be sure your website platform will be able to support your podcast goals.
2. Domain name: Register a domain name that reflects your podcast's brand or name. Your domain name should match the title of your podcast so that listeners can easily find you online. This is a critical step to ensure you don't lose listeners. Often brands discover their first-choice domain name is already taken. Don't compromise your brand by adding unnecessary letters or words to your domain, instead look at other popular domain extensions such as .us or .co, which can offer more availability and a better chance of snagging your exact match domain.
More tips on choosing a domain name
3. Design and layout: Strive for professional and consistent design that aligns with your brand. If you're producing a true crime series, serious fonts and imagery of the suspects and victims would serve your curious listeners. If you're launching podcasts focused on luxury travel, then elegant fonts paired with bright and expansive photos of exotic destinations would complement your series. No matter the podcast category, use an appealing color scheme, readable fonts, and high-quality images. Make sure your website is mobile-friendly and responsive.
4. Homepage: Your homepage should provide an introduction and overview of your podcast and engage visitors. As mentioned, search terms play a huge role, so make sure your homepage is SEO-friendly. Include an eye-catching header, a brief description, and links to your latest episodes or featured content. Install website analytics tools like Google Analytics to monitor visitor statistics and gather insights, like what time fans tend to tune in most. Be sure to optimize your homepage with relevant keywords to improve search engine visibility.
5. Episode archive: Create a central page where visitors can access all your podcast episodes. Organize them by date for easy navigation. Include the titles, descriptions, and embedded media players, which make it easy for others to embed the podcast player via social media posts or their own blog posts. If you want to go the extra mile for your listeners, include show summaries and transcripts for each episode. And, of course, make sure all your episode titles and descriptions are also SEO-friendly, and include all relevant keywords. This enhances accessibility and allows visitors to skim the content.
6. About page: While most listeners tune into their preferred podcasts via Apple Podcasts or Spotify, these platforms are limited when it comes to engaging with the hosts. Your podcast website can include an About page where you can introduce yourself and your podcast's mission. Share your background, the inspiration behind your podcast, and any achievements or experiences that make you an expert in your field.
7. Contact information: Include a contact page or section where visitors can reach out to you, be it via an email or a web page contact form. Allow for listeners to submit inquiries or feedback so that the podcast can become an ongoing two-way conversation between you and your listener. Acknowledge any positive and negative feedback, and use helpful suggestions to continually improve your podcast.
8. Social media integration: Create new avenues to continue this two-way conversation via social media. Your website should link to your podcast's social media accounts, such as Twitter, Facebook, Instagram, or YouTube. In turn, these social media accounts should link back to your website. This helps expand and streamline your online presence and further engagement with your audience.
9. Subscription options: Entice your visitors to subscribe to your podcast, so they can tune in each time you publish a new episode. To encourage them, design your podcast website to include call-to-action buttons and links to popular podcast platforms like Apple Podcasts, Spotify, Google Podcasts. You can also provide listeners an option to subscribe via an email newsletter.
10. Keep promoting your podcast!: You want your podcast subscribers to become your brand champions. Design your website with share buttons for each of your episodes and encourage listeners to spread the word about your podcast on social media. Embed promotional banners or call-to-action buttons to promote special offers, merchandise, or upcoming events. Equally important, regularly update your site with fresh content and upcoming episodes or exciting interviews in the works. Let them know what's next and give them a reason to tune in and engage with you in new ways via your podcast website.